Playing her part in raising the aspirations of young people in the Tees Valley is a priority for Stockton Riverside College Principal, Lesley Graham.
For her, that means opening their eyes to the opportunities available and helping to raise their aims for the future.
It's something that truly matters to Lesley as there was a time she never would have dreamed of being in the role she is today.
She recalls: "I came from a single parent family from inner city Liverpool, with no aspirations what so ever. In our school only one person passed their 11+, and even they didn't go to grammar school because they had no way of getting there."
Looking back, she puts her own career transformation down to some "fabulous teachers" who enabled her to see there was another way of doing things.  She was a mum herself before a return to further education led her into teaching and then leadership.
It puts her in prime position today to understand the hopes and fears of learners.  As a college principal, Lesley believes it is her responsibility to support students of all ages to recognise their full potential.
Having worked in colleges in areas with high levels of deprivation in East London and Birmingham, she says: "There are some students who don't have positive role models at home.  So, it is about making sure they get that support at college, or we are never going to break the cycle of deprivation."
But beyond that, in all walks of life, Lesley says, we can all impose limitations on ourselves, whether that be due to personal circumstances, family, age or just misconceptions.
That's why at Stockton Riverside College, as part of the Education Training Collective (Etc.), they are working with the likes of The Girls' Network, offering students the chance to be mentored by Tees Valley professionals.
And as a female leader in the Tees Valley, Lesley welcomes initiatives such as the newly launched Power of Women campaign, spearheaded by Professor Jane Turner OBE DL to level up the gender gap and improve opportunities for girls and young women in the region.
Lesley says: "To meet people in the careers you may not have previously dared to aspire to, and find common ground, helps to make it seem attainable.
"It's about seeing the person behind "the posh job title" and understanding that they too can have doubts about their ability."
For Lesley, it isn't just about gender, she says: "We all have our own strengths and weaknesses, and no matter what the job title, I am sure we all face moments of self-doubt.
"But it's more about how we approach that, through the likes of tenacity and being willing to put in the hard work."
Developing these skills in students is something that Lesley has made a priority since joining Stockton Riverside College in October 2018.
She says: "For me, our biggest strength is the support we give to our students, not just through a fantastic vocational experience but making sure they are ready for their next steps and ultimately have the skills employers want. These are employability skills such as problem solving, communicating well, and working as part of a team.
"There are those young people who don't always realise you are not automatically given everything on a plate. Because of things like mobile phones and online shopping, we live in a world of instant gratification. So, it is vital we teach our students that if you really want to achieve something purposeful, you have to work at it and not give up at the first hurdle."
She says: "I have learnt it's not about being perfect, who among us is? But it is about building confidence, tenacity and being willing to put in the effort for what you want to achieve.
"We all have our own unique stories," says Lesley. She explains that it is only quite recently that she has appreciated the true value of sharing her personal story as a way to reach out and support others. And, as she found, education is the way to achieve those aspirations.
"I had two children by the time I was 25 and at that time I would never have dreamed I would end up here," she says.
"I am proud of what I have achieved. This is my background and it might just show someone that if I can do it, and I'm certainly not special by any means, then they can do it too."
Stockton Riverside College is a part of the Education Training Collective (Etc.), a group which also incorporates Redcar and Cleveland College, Bede Sixth Form, NETA Training and The Skills Academy.
Offering a wide range of full-time and part-time courses, along with higher education, access to higher education, professional and commercial courses, distance learning and apprenticeships, visit www.stockton.ac.uk to find out more or www.the-etc.ac.uk.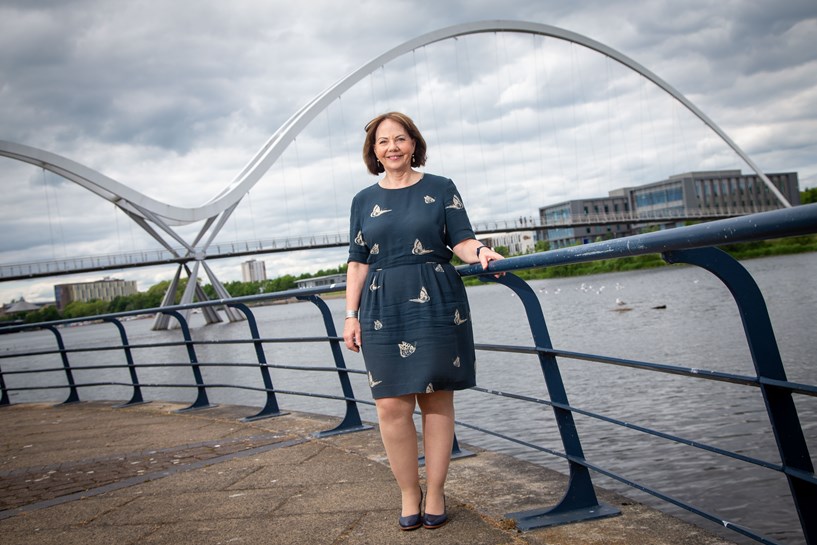 Apply Now