There are congratulations all round, as four of our amazing Cert HE in Social Care students are celebrating after receiving their university offers for midwifery at Teesside University! We caught up with the future midwives, pictured left to right: Louise, Lucy, Jane and Rebecca, to talk about their success…
Lucy, 34 from Stockton, started her studies with us in 2019 on the Pre-Access course before progressing onto the Access to Higher Education Diploma in Health, followed by the Cert HE in Social Care. She was overwhelmed after receiving her university offer and couldn't wait to share the news with her family, she said: "My mum is a midwife and I'm so excited that I will be following in her footsteps and making her proud – she is my inspiration. Before I started my studies, I wasn't very academic, so I can't believe what I've achieved. The fact that I'm going to university is a massive personal achievement for me!"
During their studies, the students completed industry placements at The James Cook University Hospital, working over 100 voluntary hours each. From the delivery suite to the postnatal ward, the placement gave them the opportunity to gain confidence in the sector and experience shadowing midwives, learning the practices and being part of the team.
Mum of three, Louise, thoroughly enjoyed her placement and is pleased she chose to study the Cert HE in Social Care course. She said: "It was daunting returning to education, but this is one of the best decisions I have ever made! The support and encouragement from my tutors and peers has been amazing and my placement at The James Cook University Hospital was invaluable, because I was learning first hand from the midwives and I'm so much more confident in industry now!"
After receiving her university offer, Rebecca is one step closer to achieving her ambition of being a fully qualified midwife, specialising in diabetes. The 27-year-old from Eaglescliffe said: "During my high-risk pregnancy I spent a lot of my time in hospital, and this is when I knew that I wanted to become a midwife. I am so proud of everything that I've achieved and my assignments. My tutors have been amazing and were there to support me throughout my studies. I'm so excited to start my degree!"
Jane, 40 from Trimdon, is a former hairdresser who decided to change her career and return to education after having her daughter. With the hope of becoming a community midwife, she said: "I found a new admiration for midwives after having a home birth and that's when I decided to retrain so that I can support mothers during childbirth and provide maternity care in their home. This course has proved to me that you are never too old to have your dream career and that you should always invest in yourself! I've learnt so much, including referencing and the theory-based knowledge - it's been so interesting."
The future midwives are currently completing their final course assignments and are looking forward to September when they will be embarking on the next chapter of their journey.
Course Leader, Susan Gooding, is thrilled for the students and said: "I am delighted for these students - they have all worked so hard throughout the year, both in their academic studies, as well as their placements. To have four students progress on to the midwifery course at Teesside University is fabulous as it's such a competitive industry. I am proud of all they have achieved and wish them every success in the future."
Whether you're considering a new career or already working within the sector, our health and social care higher education courses can help you gain employment, progress onto university or upskill in your current job role. If you would like more information, please contact our course leader, Susan, on susan.gooding@stockton.ac.uk or click here to visit our website.
Applications are open for September 2021 – apply online today!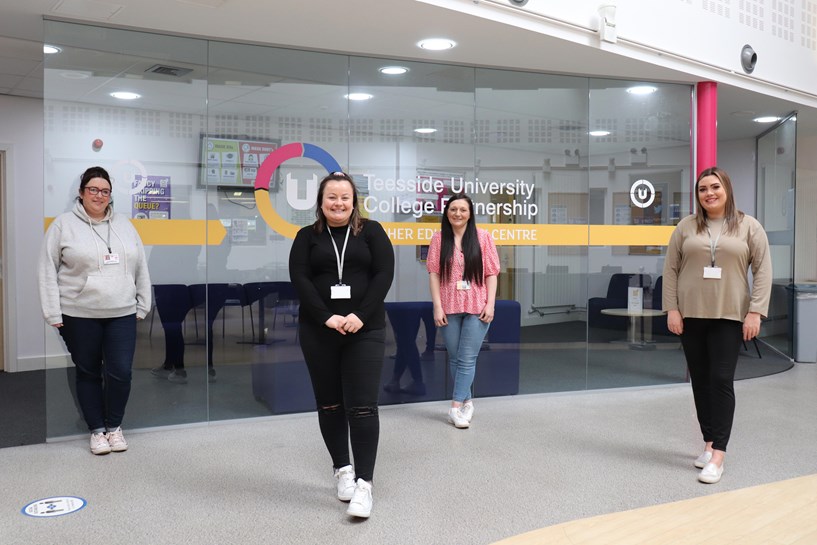 Apply Now