It's always been about making others feel good about themselves for Robert.
From a young age, Robert, 28, from Stockton, was always called upon by friends and family for a new hairstyle, but it wasn't until he met his partner that he believed his passion could become a career.
He said: "Doing hair was always a love of mine but it was my partner that really encouraged me to pursue it professionally. All of my friends and family used to come to me and I had built up a nice little client base but it got to the point where I just wanted to learn more, build my skills and gain a qualification."
Robert didn't let the pandemic get in his way, completing all of the courses offered to him he was more than ready to get back in the salon.
Melanie, hairdressing tutor at Stockton Riverside College, said: "It was hard for all of our students during lockdown but Robert adapted really well. He attended all of the courses available to him and he really put the work in outside of the salon. It's great to see him back in and doing what he loves, his energy and enthusiasm is contagious, I definitely see a bright future for him."
When lockdown was lifted, Robert secured a position in a salon two days a week which he does alongside his course.
He said: "I'm so grateful to be working, times are tough at the moment and to be doing what I love is just perfect. I would love to join forces with my partner and open our own salons all over the world, that's the dream!"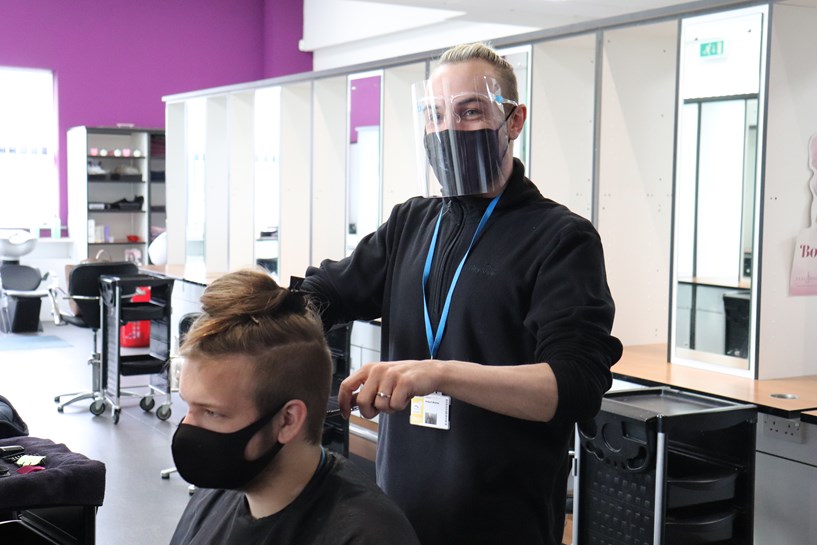 Apply Now