It's Colleges Week 2020, a chance to celebrate and shout about all of the brilliant things that colleges do.
So what better time to launch our new-look website, showcasing all that we have to offer?
We hope you'll enjoy browsing through our courses, taking a look at our facilities and discovering what student life is all about.
Our website has been designed with you in mind, so it's filled with vibrant images and videos in, what we hope is, an easy to navigate format, built to inspire.
"As part of the Education Training Collective (Etc.) we wanted to create websites that celebrate all that is special about each of our individual campuses while still sharing the same group values," said the Etc.'s Director of Marketing, Erika Marshall. 
On our pages you will find easy access to our wide range of full and part-time courses, apprenticeships training, higher education and professional courses.
Whether you are a prospective student, parent or guardian, this is your one stop shop for everything you need to know about college life from course information to student support, information regarding travelling to and from college to enrichment opportunities. And, of course, you can apply online.
If you are an employer looking to train or upskill your staff, find or train an apprentice or discover your options for further workforce development, we've got that too!
So we hope you will sit back and take a moment or two to discover what Stockton Riverside College is all about.
Want to know more about the Education Training Collective? Visit our brand new Etc. website at: www.the-etc.ac.uk
#CollegesWeek2020 #LoveOurColleges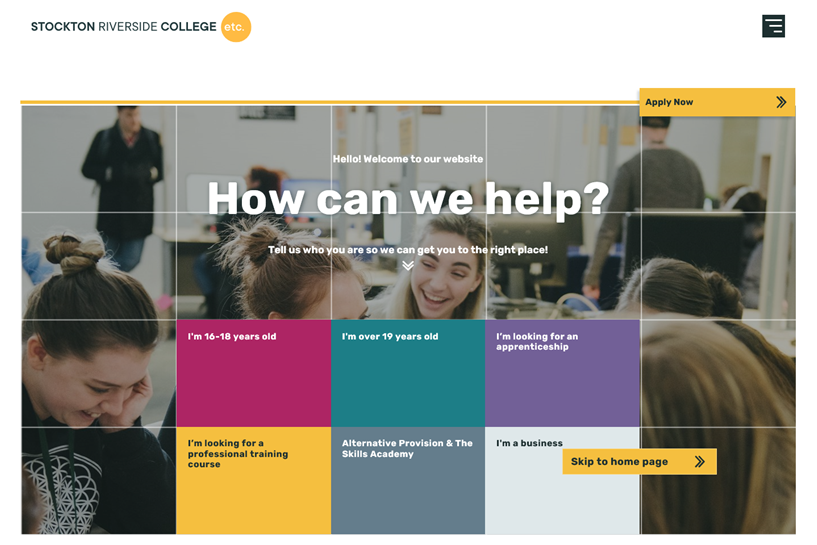 Apply Now