Acting students were given an insight into life behind the scenes of a professional show when Royal Shakespeare Company (RSC) actor Tim Hard paid a visit to Stockton.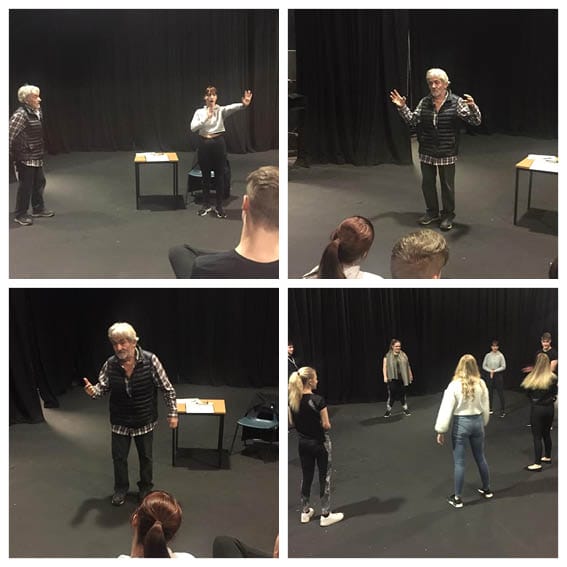 Following a successful stint at the Edinburgh Fringe Festival, the Icarus Theatre Collective brought The Trials of Galileo to Stockton Riverside College, in the first of a series of professional shows being staged at the Margaret Armstrong Theatre.
Star of the one man show, Tim, took time out of his busy schedule to deliver an acting workshop to our Level 3 Acting for Stage and Screen students.
"It's been great to have a world class actor like Tim speak to our students," said the College's theatre programmer Paul Jeffries. "His workshop was terrific and the students learned a lot, especially about life in the industry."
Having worked for many years in both theatre and TV,  Tim passed on his expert advice to the students and recalled some of his experiences of working in the industry; one of which was breaking his leg on one of his very first shows on the stage.
A guest judge at the prestigious Royal Academy of Dramatic Art school in London, he also offered the students invaluable advice about auditioning for a place at drama school, picking the right piece and not taking huge risks was his top piece of advice.
This week The Margaret Armstrong Theatre will host its second professional show of the season as Two Destination Language brings Fallen Fruit to the College stage.
Described as an "entertaining and engaging" performance, Fallen Fruit showcases a unique migrant voice born in communist Bulgaria.
Devised and performed by Bulgarian immigrant Katherina Radeva, from her own life and her parents' memories, the show offers an insight into life growing up behind the iron curtain until the fall of the Berlin Wall.
Fallen Fruit takes to the Margaret Armstrong Theatre in Stockton Riverside College this Thursday (Nov 22) at 7.30pm.
Open to the public tickets cost £10 adults, £8 concessions and £5 per ticket for school bookings.
For tickets, details and all the latest event dates visit: 
www.stockton.ac.uk/performing-arts/